About Us
Trilonium® is promoted by eKitchen Ventures a family run bootstrapped startup. We're an online shopping portal, committed to curating and manufacturing value for money ferrous metal cookware products primarily made in india by us and our partner MSMEs. Our direct rapport with factories enable us to deliver the best of products at reasonable prices. Our founders have a combined experience of 50+ years in the home and kitchen category in both B2B as well as B2C segments. Our motto, is to ensure every paying customer is a happy customer. We assure you that our cookware is Naturally Seasoned and Naturally Non-Stick. Welcome to the world of Healthy Cooking !
Our Story
Legend has it that, Lord Shiva was the propogator of the Vedas (ancient Indian sciences). Ruk Veda (Rig veda) which is the science of smelting; 'SHIVA' cast his trident or the trishul using this knowledge. The trident in our logo signifies the divine symbol of POWER and is dedicated to 'SHIVA'.
TRI-LO-NIUM*
The word 'TRILONIUM' is a portmanteau blended word:-
TRI-LO-NIUM*
TRI*- denotes 'Three'
Cast-Iron (alloy) is mainly composed of 3 elements; namely-
1. Ferrous Iron, 2. Carbon and 3. Silicone (Sand)
LO* -  denotes Loh or Loha meaning ferrous metal.
NIUM*- denotes the rule (niyam) of splitting by heating/melting the metal from its ore.
Thus, 'TRILONIUM' symbolyses an all powerful ancient and natural alloy of IRON
that we claim to be safe and best for cooking.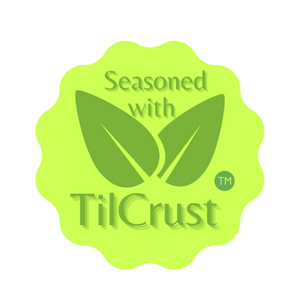 Seasoned with TilCrust™
All our cast-iron / carbon steel cookware is seasoned with natural cold-pressed EDIBLE VEGETABLE oils. Its acts like a naturally nonstick coating.
The seasoning needs to be maintained as per our instruction manual so that your pan remains non-stick.
Tilcrust™, is the seasoning we use on our cookware which is a proprietary mixture of natural cold-pressed vegetable oils that is baked on the surface of our cookware.